By Nicole Bernhardt, University of Toronto
Last month, a former Toronto school principal, Richard Bilkszto, died by suicide. Although the reasons for suicide are complex, his family and lawyer released a statement linking his death to an anti-racism workshop he had attended.
Those ardently opposed to "woke politics" are now using Bilkszto's tragic death to decry anti-racism and equity work. The Ontario Ministry of Education, led by Stephen Lecce, has called the allegations "serious and disturbing" and plans to conduct a review of how anti-racism and equity work is done at school boards.
The workshop Bilkszto attended was led by Kike Ojo-Thompson, CEO of the KOJO Institute. Ojo-Thompson has called the death of Bilkszto a tragedy. Ojo-Thompson was unaware that earlier this year, Bilkszto had filed a lawsuit against the school board concerning the anti-racism workshop she led about white supremacy.
As someone who has worked in the fields of equity, education and anti-racism, I understand both the importance and the burden of naming "racism" and "white supremacy" within institutions. It is crucial to support those who risk their reputations and livelihoods to do this naming.
I see the current media storm as a precedent-setting moment on the risks associated with institutional equity work. I believe it will also test Canadians' commitment to doing the work needed to address racism.
The minister's response as well as those by right-wing news media have helped to fuel a narrative that anti-racism and equity work is to blame.
Anti-racism training denigrated by news media
The Daily Mail described the investigation into Bilkszto's death as one that will look into "whether the obsession with woke policies may have contributed" to his death.
The National Post wrote: "It's no coincidence that Bilkszto came out humiliated" since "the DEI industry is designed to sell guilt and shame and perpetuate a culture of victimhood."
The Toronto Sun has suggested there is need to look at "the general issue of diversity, equity and inclusion training" concluding "reform may be sorely needed."
Equity work disrupts 'safe spaces'
Equity training aims to address practices that sustain institutional inequities. It begins with the acknowledgement of both historical and contemporary inequities and the premise that such work is needed to bring about equity.
Even at its mildest, equity work involves taking some people outside of their comfort zone. But equity work at its most meaningful involves getting people to recognize that their comfort zone has depended on other people's silence and marginalization.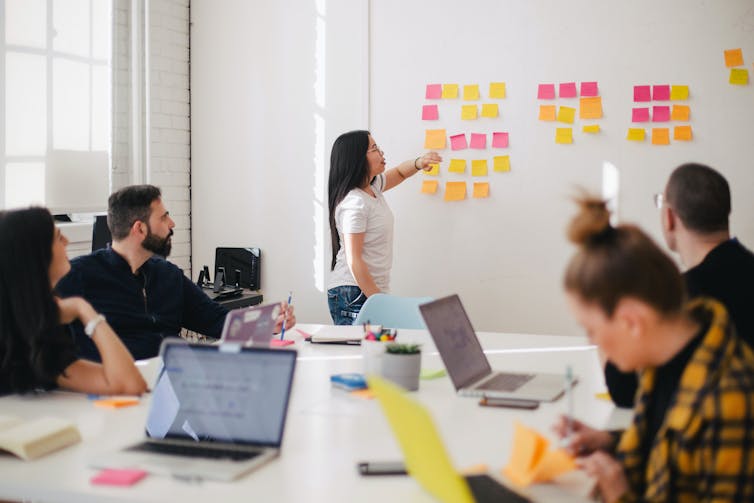 Yet equity work is often conducted within the context of a market-based relationship, where client priorities dictate the boundaries of change and disruptiveness. These boundaries are frequently constructed around language choices — with terms like "diversity" and "inclusion" being permissible while, "racism" is deemed too polarizing.
When wading into discussions about equity and racism, the practice of establishing guidelines has been a central strategy for mitigating the associated risks. This practice has often been described as building a "safe space." But long-time social justice educators, Brian Arao and Kristi Clemens, argue "that authentic learning about social justice often requires the very qualities of risk, difficulty and controversy that are defined as incompatible with safety." This is especially the case when these conversations are taking place within the very institutions that are being asked to confront their own racist and inequitable practices.
Safety also gets conflated with comfort when people expect these conversations not to be upsetting or difficult, or expect not to be held accountable for their comments. This is an impossible standard to set for conversations that challenge institutional norms and social inequities.
McGill University political scientists Tari Ajadi and Debra Thompson describe this type of racism as "simultaneously individualistic and systemic." Discussing racist systems requires reference to tangible individual instances of racism to illustrate how racism is reproduced.
Sometimes this is met with tears and sometimes this is met with defensiveness. For example, in a training I once conducted, a white woman cried when she realized that she had been using language to describe Black children which I explained reiterates racialized stereotypes that harm and dehumanize Black people.
Even when we try to make intentional language choices, such as "address the comment, not the speaker," the illustration of racism will feel personal for those whose behaviour is implicated.
In her column for the Toronto Star, journalist Shree Paradkar, carefully delineated between the ideas of "upholding white supremacy" and "calling someone a white supremacist" in her review of Ojo-Thompson's words in the session recordings. But this delineation fails to satisfy those avowedly anti-woke commentators for whom the language of racism and white supremacy is always considered unspeakable.
The unspeakability of racism
Following the 2020 "summer of racial reckoning," almost every sector in Canada was compelled to initiate equity work. Many developed Equity, Diversity & Inclusion (EDI) policies, and several demonstrated a willingness to have difficult conversations on racism.
Since then, the perceived urgency of this equity work has been steadily waning, yet the resistance to this work has remained forceful.
Equity studies scholar Sheila Dawn Gill offered the term "unspeakability of racism" to describe the barriers to naming racism within Canadian spaces. She used the example of the silencing of the late Cree politician, Oscar Lathlin, for using the term "racist." This silencing was again applied to current NDP Leader Jagmeet Singh's use of "unparliamentary language."
Broad acceptance of the reality of systemic racism is meaningless if it cannot be applied towards understanding how racism is enacted both individually and institutionally through comments, actions and specific circumstances. Institutional commitments to anti-racism are meaningless if they do not extend support and care to those doing this work.
Two decades ago, Canadian political scientist Malinda Smith described how the "race manners" of Canada continue to support the suppression of the naming of racism and obscure the way that race continues to matter throughout Canadian institutions.
The vilification of Ojo-Thompson for talking about white supremacy demonstrates the enduring hold of Canada's race manners, even in the wake of our collective racial reckoning.
If you are experiencing suicidal thoughts, you need to know you're not alone. If your life or someone else's is in danger, call 911 for emergency services. Or, call Talk Suicide Canada at 1-833-456-4566.
Nicole Bernhardt, Assistant Professor, Political Science, University of Toronto